Everybody has been in a situation when we wish we had stronger arms or, even better, an extra pair of them. Whether it is attaching something large overhead or manipulating something heavy, we all know we are bound to run into the limitations of our own anatomical design. In some professions, such as construction work, these difficulties can surface practically every day. To make physical drudgery less stressful and traumatic, researchers around the globe are now developing a new kind of robots that will be worn on the body just like your regular backpack.
Wearable robotics flourishes on the collaboration between the human and the machine and has a huge potential in all kinds of physically challenging work. This idea has already been put to test by Daewoo Shipbuilding & Marine Engineering, one of the biggest shipbuilders in the world. Korean shipyards have long been known for their high degree of automatisation. Now it appears the Korean company has decided to go one step further.
The company has developed a wearable exoskeleton that allows workers to carry huge pieces of metal and other heavy components with no or little effort. The exoskeleton weighs around 30 kg, none of which, however, is felt by the wearer since the suit is designed to support itself and follow the wearer's movements.
The prototype can lift and precisely manipulate objects with a mass of up to 30 kg. The test has demonstrated that this technology can indeed help workers with their daily tasks, although those who had a chance to take part in the test run say they would like to be able to move faster and lift even heavier weights – a goal the research team is already working towards: the current research target is an exoskeleton that can lift up to 100 kg and be used on a daily basis at shipyard facilities.
Another example of how wearable robots can literally give a hand to future workers comes from the MIT's d'Arbeloff Laboratory for Information Systems and Technology. The lab is working on a pair of lightweight robotic arms attached to a backpack that are envisioned to assist people with those tasks where our two arms are just not enough.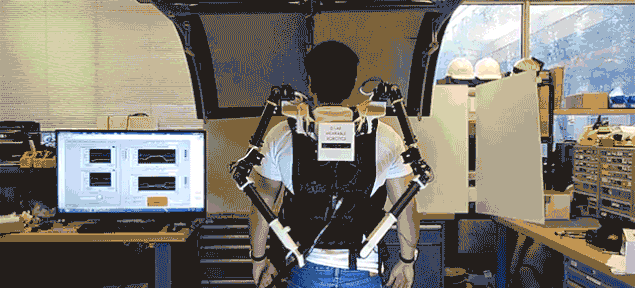 The project called SRL (Supernumerary Robot Limbs) is supported by Boeing and was recently used in a demo that involved installing ceiling panels in an airplane, a highly repetitive task that is difficult to perform on your own. By pushing the panels against the ceiling, the device can alleviate the worker from the necessity of simultaneously holding the panel, inserting the screws and using the screwdriver to attach it.
Watch the video below to see the prototype in action.