Article by Michael Szollosy
Just last week, La Pedrera, Barcelona, has hosted the Living Machines 2015, the 4th International conference on biomimetics and biohybrid systems.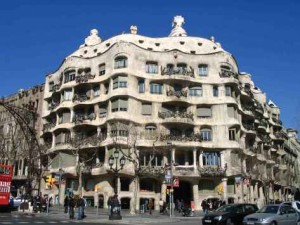 Running from the 28th – 31st of July, Living Machines 2015 is sponsored by the Convergent Science Network and feature plenary talks by internationally-renowned researchers in roboticists and workshops examining the intersection of living and artificial systems. There were also poster spotlights and poster sessions, and robot and media demonstrations. A full programme of the events can be found here.
Biomimetic systems are technologies that draw their inspiration from biological systems; these can be used to improve artificial systems and offer solutions to technological and engineering, and can also be used to explore in greater depth natural systems themselves. Biohybridity refers to the merging of living and artificial systems to create new entities, and are used, for example, in robotics, materials, computing, brain-machine interfaces (e.g. neural implants), artificial organs and body parts.
Plenary speakers at this year's conference include:
Roger Quinn: Director of the Centre for Biologically Inspired Robotics Research at Case Western Reserve University in Cleveland, Ohio. Professor Quinn will talk on 'Animals as models for robot mobility and autonomy:  Crawling, walking, running, climbing, and flying'
Barbara Mazzolai: Director of the Centre for Micro-BioRobotics (CMBR) of the Istituto Italiano di Tecnologia (IIT) of Genoa, Italy, and Deputy Director for Supervision and Organization of IIT Centres Network. Professor Mazzolai will be giving a talk entitled 'From plants and animals to robots: movement, sensing and control'
Ryad Benosman: Professor at the University Pierre and Marie Curie, Paris, France, leading the Natural Computation and Neuromorphic Vision Laboratory, Vision Institute, Paris. Professor Benosman will be giving a talk entitled 'Neuromorphic Event-based time oriented vision: A framework to unify computational and biological vision.'
Robert Richardson: Director of the Institute of Design, Robotics and Optimisation at the University of Leeds. Professor Richardson will be talking about using robots for safety and security, surgical technologies for health and well-being, and rehabilitation and prosthetics.
José Halloy: Professor of Physics at Université Paris Diderot. Professor Halloy will be speaking about collective intelligence in natural and artificial systems.
And workshops included discussion on topics such as:
Living Machines is one of the foremost conferences on robotics in the world, and is not to be missed. If you could not attend, the proceedings are already available here – do explore and have a look at some of the terrific ideas and developments being discussed. (Proceedings from previous years' conferences can be found here.)
For all inquiries contact info.csnetwork@upf.edu