"We are coming to an era where one of the most urgent challenges in neuroscience is the problem of large scale integration".
Large-scale simulations of the brain in silico, sometimes using robotics, can be useful, but they are only meaningful if built upon a solid understanding of brain regions. "We need to know the specific interactions between brain regions and we need know the control signals involved. We need to know how the brain functions as a whole", comments ICREA Prof, Paul Verschure from UPF Barcelona, with Prof. John Lisman from Brandeis University. This conversation was followed by the idea to organize a workshop, "The Convergent Science of Mind and Brain" to broaden the discussion with experts in the field. The goal of this small workshop was to bring together visionary scientists in the hope of getting a handle on the function of the brain from a system level perspective. How can we improve what we know already about the brain and its function?
In the beautiful and scientifically rich environment of
Woods Hole, and with the promise of lots of fresh fish, desserts from "Pie in the Sky", good wine and good conversation, 12 scientists from different Universities around the globe have gathered  together to discuss in a novel format that combined topic-oriented discussion with specific case studies of computational models.
These case studies were anchored in the expertise of the participants and the main objective of their analysis was to use them to predict fundamental organizational principles of the brain.  In parallel, a computational robot based system level model of the brain was advanced starting from an available system. This new format was  designed to facilitate the transformation of ideas into realized computation, possibly validated by the behaviour of robots.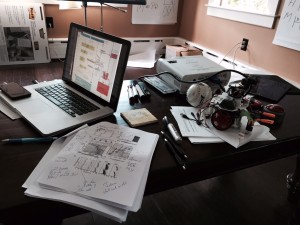 The event was organized by Paul Verschure (UPF and ICREA), John Lisman (Brandeis Univ.), and Anna Mura (UPF, Barcelona). Sponsored by CSN II [FP7-ICT-601167]
for more information see http://csnetwork.eu/activities/woodshole2015